Sometimes it can take years to download a user's entire profile, especially if they have a really sophisticated layout or if they have tons of comments and pictures. Most times I just want to get the basic information about a user to decide if I want to add them to my friends list. Enter
Browster 2.0
.
Browster is a little browser extension available for
Internet Explorer
and
Firefox
that allows you to preview a profile before you visit it. All you have to do is hover over the link to the profile and it pops up a window with preview information including pictures, basic profile information and music player for musician profiles.
Browster
allows you to surf Myspace a hundred times faster. Browster will work with any website that you visit but seems especially well suited for Myspace. Usually I'm not a big fan of "web optimizer" type apps because they ultimately slow things down but
Browster
really does make browsing Myspace alot more efficient.
Check it out!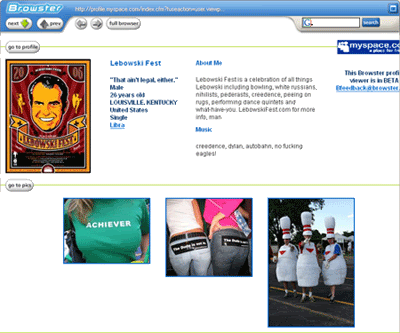 (via
mashable
)