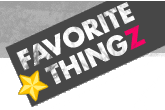 FavoriteThingz
, a widget that allows you to make money on your Myspace profile just released some great new features to their already delicious widget! Some of the new features include the ability to have multiple badges so you can pimp your favorite music and your favorite web sites, and a "thingz sorter". Here is the official bulletin that
FavoriteThingz
posted:
BIG NEWS.

That's right BIG.
First off, thank you all for trying out FavoriteThingz and showing off your favorite stuff in one of our badges. We're doing all we can to help you earn cash by showing off your favorite items, brands, celebrities and bands.

We've made some major changes to the site, and now allow you to create as many badges as you'd like in your account. That's right, create as many badges as you want, and have them all right there at the ready on your account dashboard page. Make a badge dedicated to just music, or just movies... style each of them to look different from each other and give them unique names to organize them.
Go crazy!

We've also introduced a "thingz sorter" so you can drag and drop all of your favorite thingz to have them appear in any order you wish.
Check it out!